Beaches Resorts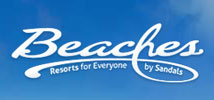 Why should you book your Beaches Vacation with French's Worldwide Travel?
We know Beaches, we've personally have stayed at and inspected all of the Beaches properties and can't say enough about these Luxury Included Resorts.

We can provide valuable insight and answer any questions you might have about Beaches Resorts.

We know what room and what resort to recommend to you. Everything looks great online and in brochures, but we can recommend based on our travels and experience.

Our relationship with the General Managers and staff assures all of our clients will have a stress free, luxury included vacation or honeymoon.

There are many "Beaches Preferred Travel Agencies". However, French's Travel was also recently selected as one of only a select few Travel Agencies that are truly recommended as preferred experts on the Sandals Website "Find a Travel Agent".
Here's what Beaches has to say about Certified Beaches Specialists and Certified Sandals Specials: "Travel Agents are growing more specialized and focused on reliable and desirable destinations such as Sandals and Beaches Resorts. A Certified Sandals Specialist specializes in Selling Sandals and Beaches Resorts. These Travel Agents, and their respective agencies, not only receive recognition from Sandals as a "loyal" educated partner, but also from the travel industry as Sandals "experts." The Certified Sandals Specialist Travel Agent has undergone a required and extensive training through our education program. The Certified Sandals Specialist Travel Agent is not only knowledgeable on all aspects of the Sandals and Beaches products, but has also been to most, if not all, of the Sandals and Beaches properties. Their insight plays an important role in assisting you make the right choice when selecting one of our Sandals or Beaches properties."
French's Travel also honors any Beaches Resort Sale, even if you have booked a package with us already and it goes on sale, we will adjust the rate for you, without penalty! We guarantee the lowest Beaches price for your vacation.
French's Travel loves Beaches Resorts! We are a Preferred Sandals Travel Agency, our agents are Certified Sandals Specialists and we keep current on all Sales on Beaches Resorts.
All of this means that we know the details of these resorts inside and out, have relationships with the key managers, and can guide you to the perfect Beaches vacation.
We are extremely confident that your vacation at one of the amazing Beaches Resorts will exceed your expectations!

Looking for the perfect Destination Wedding? We have an agent that specializes in Destination Weddings! Get the special day you've always dreamed of with the help of French's Travel. We've planned hundreds of Destination Weddings.

Looking for the perfect Family Reunion venue? Think Beaches! Call French's Travel and we can help you plan your dream family reunion!
Learn more about Beaches Resorts